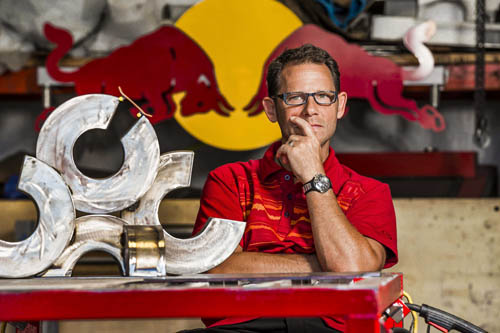 C.J. Rench is professional sculptor specializing in large-scale abstract designs and fabricating unique works of art, which reflect the values and artistic vision of his customers. Rench started as a self taught industrial engineer and senior project designer in the sporting goods industry, where he was awarded multiple patents for his innovative concepts and designs. He began designing and fabricating metal sculpture full-time in 2004, and since then has installed over 30 large-scale public works throughout the US.
Specializing in metal sculpture, all of the colorful pieces are hand painted with industrial marine epoxy and fabricated from mild steel, stainless steel or aluminum for durability and timeless quality. Incorporating glass, lighting and other design elements that create unique works for clients is a challenging and rewarding part of his work. Most of all, he wants his sculptures to invite, inspire,
and connect people, regardless of age.
CJ's artwork spans from public to private and corporate collections throughout the globe. His unique designs have given him the opportunity to work for numerous national firms including Universal Studios, Resers Fine Foods, and Red Bull. Always on the leading edge, C.J. is currently working with Red Bull to create the world's first public art installation designed and built specifically to be skateboarded. Titled "Skatespace", the project is a brand-new concept aimed at reshaping the way we view and interact with public art. All works are fabricated at his studio in Hood River, Oregon where he lives with his wife and daughter.
"I use bold colors in my works, after all life is colorful, joyful and exhilarating why shouldn't your art be?"
"I strive to create sculptures that are inviting and inspiring, sculptures that provide smiles and memories for everyone regardless of their age."
CJRDESIGN STUDIO 1457 Barker Road, Hood River,Oregon 97031
541-399-3830
cjrdesign@gorge.net
Awards
Columbia Center of the arts "Best of show award. 2008
Trt Lakerts festival "Best of Show" 2009
La Quinta Arts Festival "Best of Category" 2015
CODAWORX "Best of Place making art" 2016
La Quinta Arts Festival "Best of Show" 2017
Previous Commissions
Full Sail Brewing Co., Hood River- outdoor mural 80' tall public 2006
Braby, Private collection 7'6" sculpture, Hillsborough CA 2007
Neilson & Sons development Bend OR. 12' abstract sculpture public 2008
Jensen, Private Collection 6' Sculpture, Hood River, OR 2008
Braby, Private collection 9' sculpture, Hillsborough CA 2009
City of Bremerton WA. 3 sculptures for Public art public 2009
Bellas Art Supply, OR large custom metal sign Public 2009
Song, Private collection 10'5" sculpture Bellingham WA 2010
Dewald, Private collection 10' sculpture Hillsborough CA 2010
Dewald, Private collection 18' sculpture Hillsborough CA 2010
Bethel Congregational Church 18' Sculpture White Salmon WA. Public 2010
Parigian, Private collection 5' sculpture, Bend OR 2011
Song, Private collection 9'6" sculpture Bellingham WA. 2011
Bend OR. Art in public places Finalist Pine Ridge Nursery 2011
City OF Moscow ID. Wren Garden Finalist 2011
City of Snoqualmie WA. 20' work Community Center YWCA public 2011
Reiser, Private collection 10' sculpture Beaverton, OR. 2012
Reiser, Private collection 5' sculpture Beaverton, OR. 2012
City of Kennewick WA. 18' Southridge traffic circle 1 public 2012
City of Kennewick WA. 12' X 50' Southridge traffic circle 2 public 2012
City of Kennewick WA. 20' Southridge traffic circle 3 public 2012
City of Coeur D 'Alene ID Education Corridor 14' Work public 2012
Kolota, Private collection 10' kinetic work Tucson AZ public 2012
Kolota, Corporate Collection 8' abstract work Tucson AZ 2012
Salem – Keizer Transit station finalist large scale public work 2012
City of Auburn WA. Lea Hill public art project finalist 2012
Palo Alto Hoover park finalist public art project 2012
City of San Ramon, San Ramon Sports Park CA. public 2013
Bright School Centennial public project, Chattanooga TN. public 2013
Ashland Oregon, Fire station #2 public art project public 2013
City of Kennewick WA. 20' Southridge Middle school public 2012
Richland Wa. John Dam Plaza 12'6" public sculpture public 2013
City of Kennewick WA. 8' HH for the new Middle school public 2013
City of Coeur D 'Alene ID. 4 th St Roundabout finalist 2014
Richland WA. Famers Market Sculpture project public 2013
See Art Orlando, 25' foot work for Orlando public 2013
City of Edmonds WA. Five Corners roundabout public 2014
City of Seattle & RED BULL Skate space sculpture public 2014
City of Meridian ID. Split Corridor, 20-foot SS work public 2014
Hood River Parks and Rec. New signs & trail markers public 2014
City of Clearwater, FL. Fire station 42 finalist/ undecided public 2014
Aurora, Co Peoria crossing finalist/ undecided public 2014
Quinn's Junction Park City UT. Finalist / undecided public 2014
City of Richland, WA. builders Choice public 2014
City of Kennewick WA. Entertainment roundabout public 2015
Farhang Foundation, LA. "A Shared Dream" (finalist) public 2014
City of Kennewick WA. Port district signage public 2015
Terre Haute IN. Corridor Arts Project public 2015
City of Kennewick WA. Horse Heaven roundabout public 2015
City of Kennewick Wa, Entertainment district roundabout public 2016
City of San Mateo CA. Gateway entry piece public 2016
Jacksonville FL. Haskell sculpture, Downtown public 2016
City of Meridian ID. Split Corridor, 3 20' grasses public 2016
City of Newport OR. Community center artwork public 2017
City of Hood River (Fabricated) Native American grant public 2017
City of White Salmon WA. 2D wall sculpture public 2017
City of Northglenn CO. Webster lake Promenade public 2018
City of Kennewick WA. TCCU signature art piece public 2018
Regency, Commonwealth Virginia signature art piece public 2018
City Of Odessa Texas, Westin Conference center Finalist. public 2018
Salem Convention Center Sculpture garden work public 2018
Rancho Cucamonga called "The Resort" Entry work public 2019
City of Kennewick WA. Parks identifier works public 2019
City Of Eden Prairie, MN. Preserve blvd. artwork public 2019
Bicentennial Sculpture Park Reno "Circles" public 2019
Nathan Bath (Serendipity $80,000)
Senior Manager, Investments
1919 Gallows Road Suite 1000
Vienna, VA 22182
703 442 4325 NathanBath@regencycenters.com
Michael Stricker (Native Grasses $100,000)
Cultural Programs & Senior Center Supervisor / City of Northglenn
Director / Northglenn Arts & Humanities Foundation
W: 303.450.8727
C: 303.883.4513 mstricker@northglenn.org
Barb Carter (Kennewick Arts Commission) (4 different sculptures)
C2Resources, LLC
c2resources@charter.net 509-531-0944