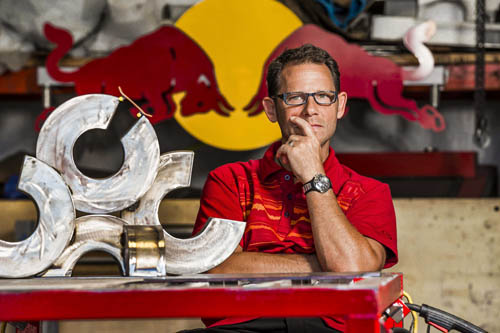 Rench, C.J. Born in Elgin IL. in 1967. Self taught industrial engineer and product designer in the sporting goods industry, C.J. designed technical products and was awarded multiple patents for his innovative products. He began, designing, sculpting and fabricating metal sculpture full-time in 2005, working mainly with large-scale abstract design that reveals his dimensionality. His work, primarily in stainless and mild steel is very diverse ranging from small tabletop hand- painted sculpture to monumental public installations. His extensive international travels as a result of his design work and entrepreneurial spirit have had a meaningful impact on his art. He has participated in various public exhibitions across the U.S. and has his sculpture at several galleries in the North West. His work includes many large- scale commissions for public and personal collectors throughout the United States.
I welcome the opportunity of working with you to create a sculpture that fits your unique personal, corporate or public needs.
My Best
C.J.
CJRDESIGN STUDIO  1457 Barker Road, Hood River,Oregon 97031
541-399-3830
This e-mail address is being protected from spambots. You need JavaScript enabled to view it
Exhibits
Roz Gallery, White Salmon, WA | 2005-2006
Westwind Gallery, The Dalles Hood River, OR | 2006-2007
Westwind Gallery, Hood River OR | 2006-2007
Cathedral Ridge Winery, Hood River, OR| 2007- current
DIG Garden shop gallery, The Pearl district Portland OR | 2006- current
Dragon Fire, Cannon Beach, OR | 2007- current
Kebanu Gallery, Bend OR | June 08 – Feb 09
OPUS6IX Gallery, Eugene, OR | July 08 – Feb 2010
Columbia Center for the Arts, Hood River, OR | August 2008
** Jury Winner best of show award.
Columbia Center of the Arts | On going
Desert Art Collection Palm Desert CA. / On going
Juried Installations
Gallery With out Walls, Lake Oswego, OR                       2007-2009

Willow, Walla Walla, WA                                           Oct – Nov 08

Gresham Center for the Arts, Gresham OR                      Oct – Nov 08

Cannon Beach Sculpture without walls                     April- April 09-10

Peace Arch Park Olympic year International Exhibit     May / May 09-10

28th Annual Visual Arts showcase, Beaverton OR.              February -10

Beaverton Art Commission Installation, Beaverton OR.     May 2010-2011

Juried through CAFÉ' online awarded both commissions.

Art in Public places Stamford CT. invitational show         June 2011-Oct

6 large scale works shipped across the country, invitational show

BOSI exhibit Irvine Valley College CA.  June 2010 – 2012          June 2011- 2012

Napa Art Walk , Napa California down town exhibit                    Oct. 2011-2013

Art on the Streets, Colorado Springs CO.                                  June 2012-2013

Art on Parade, Northglenn CO.                                               June 2012-2013

El Paseo Invitational Exhibition, City of Palm Desert CA.              Oct 2012- 2014

Sun Valley Fine arts Festival, Sun Valley ID.                                        Aug 2012

 

Commissioned work

Full Sail Brewing Co., Hood River- outdoor mural 80' tall public 2006

Isthmus Sailboards, Hood River- custom steel signage                                    2007

Dr. Taylor, Private collection 12' sculpture Hood River OR.                              2007

Braby, Private collection 7'6" sculpture, Hillsborough CA                                 2007

Luhr Jensen complete Public Sculpture Park, park plans, execution

and nine monumental sculptures. Hood River OR            public 2008

Felton, Private collection 14' Sculpture Lake Oswego OR.                                 2008

Neilson & Sons development Bend OR. 12' abstract sculpture          public 2008

Parigian , Private collection 16' sculpture, Bend OR                                         2008

Jensen, Private Collection 6' Sculpture, Hood River, OR                                    2008

Braby, Private collection 9' sculpture, Hillsborough CA                                     2009

City Of Bremerton WA. 3 sculptures for Public art            public 2009

Bellas Art Supply, OR large custom metal sign            Public 2009

Song, Private collection 10'5" sculpture Bellingham WA                                    2010

Dewald, Private collection 10' sculpture Hillsborough CA                                   2010

Dewald, Private collection 18' sculpture Hillsborough CA                                   2010

Bethel Congregational Church 18' Sculpture White Salmon WA. Public 2010

Parigian , Private collection 5' sculpture, Bend OR                                            2011

Song, Private collection 9'6" sculpture Bellingham WA.                                     2011

Bend OR. Art in public places Finalist Pine Ridge Nursery                                   2011

City OF Moscow ID.  Wren Garden Finalist                                                       2011

City of Snoqualmie WA.  20' work  Community Center YWCA public 2011

Reiser, Private collection 10' sculpture Beaverton, OR.                                       2012

Reiser, Private collection 5' sculpture Beaverton, OR.                                         2012

City Of Kennewick WA. 18'  Southridge traffic circle 1            public 2012

City of Kennewick WA.   12' X 50' Southridge traffic circle 2  public 2012

City of Kennewick WA.   20' Southridge traffic circle 3            public 2012

City of Coeur D 'Alene ID Education Corridor    12' Work           public 2012

Kolota Private collection 10' kinetic work            Tucson AZ                         2012

Salem – Keizer Transit station finalist large scale public work                          2012

City of Auburn WA. Lea Hill public art project finalist                                    2012

Palo Alto Hoover park finalist public art project                                           2012

City of San Ramon, San Ramon Sports Park CA.          public 2013

Bright School Centennial public project, Chattanooga TN.            public 2013

Richland Wa. John Dam Plaza  public 2013

City of Couer d'Alene ID.  finalist for 4th street round-about public 2013

See Art Orlando.  Orlando FL.  25' Sculpture "Centered" public 2013

Red Bull Skates space, Seatttle Wa.  23' skatable public art public 2013

Edmonds Wa, Five Corners round about, 14' sculpture public 2014

Hood River Parks and Rec. artistic info signs!! public 2014

 

 

References:

 

Nicole Sanders ( Public Art commission work )


Associate Planner


City of Snoqualmie WA.


Planning Department


425.888.5337


Email: 

This e-mail address is being protected from spambots. You need JavaScript enabled to view it

 

Pam Bykonen
City of Richland
Community & Development Services

Richland, WA  99352
509-942-7583

Email:

This e-mail address is being protected from spambots. You need JavaScript enabled to view it
 

Michael Roy ( Operations Manger )


Public Works


City of Snoqualmie WA.


Office: (425) 831-4919

Email: 

e

This e-mail address is being protected from spambots. You need JavaScript enabled to view it

Steve Anthony

Artist Liaison to the City of Coeur D Alene ID.


Coeur d'Alene City Hall
710 E. Mullan Ave.




208-755-9735

Coeur d'Alene, Idaho 83814

Email: This e-mail address is being protected from spambots. You need JavaScript enabled to view it